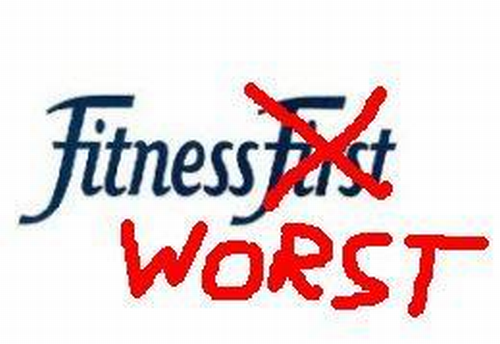 I have worked at fitness first, all I have to say is negative things about it. I will try to be polite and professional as possible. I will tell you some of the things I have experience there, working for this corporate gym. The manager at my gym at the time, was such a greedy no compassion loser of a personal training manager. All he cared about was making sales, and letting all the trainers suffer with high rent costs, while being stuck on a 1 year contract with lack of clients.
Below are just a few out of thousands and thousands of comments made by people who have trained and have been members of fitness first. I have also left out the really nasty ones to.
Fitness First member #1:
I will make this report short and sweet.
The trainers at Fitness First are sorry excuses for trainers. My wife's trainer explained to her how most of the trainers were certified by a truly crappy certification course that would never fly in a "real" training business. The male trainers are the worst! 20-something, horny, pestering, cocky, jerks!
In the end, I suggest NEVER SIGNING UP WITH ANY PERSONAL TRAINERS FROM FITNESS FIRST!!! Just don't do it! If you want to get in shape, look elsewhere for training. These people are salesman first! The personal training is crappy, the contracts are binding for 6 months to 1 year. Please take my advice! I'm tired of people losing money so some corporate CEO so he can wipe his butt with $100 bill's.
Fitness First ex-employee:
They charge way to much for personal training and the member gets no benefit from buying it from them. Its hard to sale something you don't believe in and I am being honest to the consumer cause I truly care about being healthy. Personally ITS ALL ABOUT MONEY and NUMBERS to them. They can care less about you and the results you get. The system is a fraud and they will try to sale you anything so I would not recommend buying anything from them. I hope you take your health and fitness seriously and if you do stay away from Fitness First cause its not worth your time, money, and agony. You will become very frustrated and then its a hassle to get out of the contract you signed.
Fitness First member #2:
One of the worst gym i have ever been to. People stay away its a total rip off company. Whenever u will try to cancel the membership they will not let u do that easily. I called their head office in order to cancel my membership and i was told it will be done by the end of january 2010. But they still charged me for the month of Feb. I called again to get my money back and the lady said there is no record of my one month notice of cancelation. She says the membership can only be cancelled by the end of March.So i have to pay till the end of march in order to cancell the membership..WOW.. What an ethical company… customers have to pay for their mistakes…
Fitness First member #3:
I was a platinum member then black lable member for 6 years, this year I finally left. There standards have dropped and there is no such thing as customer services in this company. They are soooooooooooo unbelievable rude especially at there head office, its a problem to leave, they over charge you, the male personal trainers and staff perve over both men and women, borderline stalking, the a lot of the female staff eye ball you, if you even breath in the direction of any male staff for genuine exercise advice. they breach your data protection and give your number out… Well I suppose if you pay peanuts you get monkey business… Good riddens to bad rubbish… Whoooo hoooo freedom… Happy new year!
Fitness First member #4:
i hate fitness first, all there after is your money and if u stop going fitness first don't care as long as there getting your money still, BUT if u stop paying them fitness first will put debt collectors on 2 u
so if u stop going 2 fitness first u still have 2 pay them, that just f##k up i think
stupid 12 month contract
Fitness First member #5:
They have gyms everywhere which would be great in an ethical organisation who treated you fairly, however with Fitness first, all they do it get you signed up and leave you for dead. They know you can't cancel if you ever plan to use them again in the future because they keep raising their fees and charging join up and admin fees. I wanted to put my membership on hold for 6 months because they were too busy and I couldn't find an available machine, so they charged me $22/month… For what? I'm not using anything. Fitness First St Leonards is run by amatures who couldn't care less about you. They'll never be around when you need to meet and will never reply to concerning emails. Try and cancel and it'll take a couple of months. I've been with them for years but that counts for jack all!
Fitness First member #6:
I joined and cancelled within the 10 day money back period due to its blatant unprofessional half-wit reception staff. Never met anyone like them. Did I get my money back? Did I hell. To add insult to injury, not only had they not refund the joining fee which they promised I'd get back but the also charged me for a month membership – I'd not been to the gym to work out once! Thoroughly dissatisfied with this"organisatioon". The manager now wants to see my bank statement as proof of the transactions which I am gladly going to take to him tomorrow. STAY AWAY!! You've been warned.
Former Fitness First member and trainer
Someone need to really take these pr**ks to court. I worked as a trainer there, and I was on contract. I started out with 3 other trainers, by 2 months they had already added 6 more trainers into the gym. It was impossible making an income competing against 9 other trainers while paying them $250 a week for rent. Also I told the manager Daniel Brims that, what if you where renting your home and the landlord brought home a few more tenants, shouldn't your weekly rent go down????? CON ARTIST FIRST!!!!!Daniel Brims got a promotion at Miranda Fitness First FOR MAKE THE CORPORATION MORE MONEY, WHILE MAKING ALL THE TRAINERS AT GRANVILLE FITNESS FIRST BROKE AND STUCK ON CONTRACTS. STAY AWAY FROM THAT C*CK EYED PR*CK!!!! I hope I never run into this c*ckhead ever again, i don't know what i would do to that ugly liar f*g mofo.
Want more follow the link below:
http://www.reviewcentre.com/review536133.html